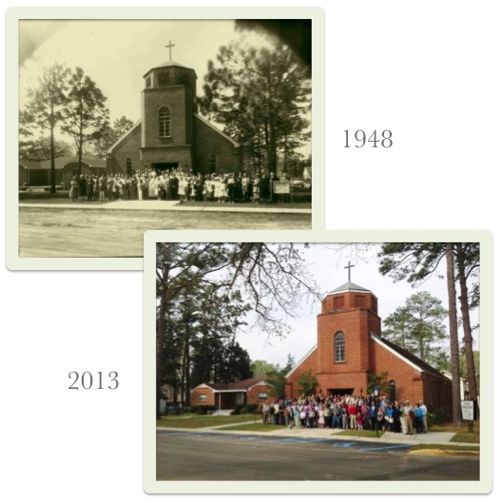 The roots of Saint Anne's Catholic Church run deep. The faith which we share first made its appearance in Jackson County many years ago. The Spanish occupied, to some degree, this entire area. Missions were established and soon a system of evangelization was begun in earnest.
We know from the diary of a Franciscan priest, Friar Rodrigo de la Barreda, and other sources that Catholic missions existed in Jackson County as early as 1674. There seems to have been three different missions in the county: the first of these, San Carlos (near a village called La Encarnacion de la Santa Cruz de Sabacola), according to some was located near the Woodruff Dam, on a site now occupied by the Appalachee Correction Institute. A second mission, San Nicholas de Tolencion, could have been located near Florida Caverns State Park, with a third mission (also called San Carlos) situated near the Waddel Mill Pond.
These first missions did not last long. At every mission there was a small Spanish garrison. They forbade the Indians to trade with the English who occupied the territory to the north of this area. Distressed by this prohibition, the Indians rose up in rebellion, and the villages were abandoned. Nineteen years later, the same Father Rodrigo came through this area on the Spanish Overland Expedition, ordered by the King of Spain. The priest described the area in his diary:
"On June 12, we continued northwest…we reached an abandoned village of the Choctaw tribe called San Nicholas, where I spent the night in the hollow of such a beautiful and unusual rock that I can state positively that more than 200 men could be lodged most comfortably within it; inside there is a brook which gushes from the living rock. It has plenty of light and height with three apertures buttressed by stonework of unusual natural architecture. Around it are level plots of ground, groves of trees and pine woods, all of which are delightful and with no other drawbacks than that of being uninhabited."
Years passed with nothing more being done to organize another mission, though Catholics did reside here. The 18thCentury began with the Queen Anne War in progress. Governor James Moore of Carolina armed with one thousand men (half being English, the other half Indians) invaded Florida, burning churches and convents, and finally destroyed missions along the way. This English invasion was stopped at the Fort called Castillo de San Marcos, in San Augustine, forcing Moore to retreat to the Carolinas.
Discredited by this fiasco, Moore resigned as Carolina's governor, but maintained control over the militia there. In 1704 burning with revenge and with one thousand Creek Indians and 50 enlisted men, he again invaded Florida. Mission after Mission was destroyed, priests, Indians and all. This entire area was subjected to his wrath. The Indians proved to be loyal Christians and ides as true believers. Survivors from the blood bath retold the following story to the Spanish governor, who related it to the King of Spain:
"During this cruel and barbarous martyrdom which the poor Appalachee Indians experiences, there were some of them who encouraged the others, declaring that through martyrdom they would appear before God…. 'We go to enjoy God as Christians.' "
By 1708, the Florida Missions here were no more.
From the blood of martyrs, the seed of Christianity grew; God was not to be defeated. Slowly He began to rebuild His church. The 19thcentury arrived. The population of Jackson County began to grow. On June 12, 1822, Bishop Portier, leaving Pensacola for Saint Augustine wrote:
"There is but one was to establish religion and there is to be campaigning always in the field. To preach everywhere, to destroy the prejudices of Protestants, to confirm Catholics in their Faith."
A short time later, crossing the Chipola River near the present town of Marianna, he wrote the following:
"We climbed up a small hill on the left bank, enjoying at our ease the most beautiful and varied spectacle. Everywhere we heard the murmur of deep brooks with steep banks. Some rocks rose as high as the trees, all around flowers had been able to flourish and presented an agreeable border, while small odoriferous trees grew out of the sides and along the tops of little hills. Natural springs, subterranean caves, oak torn by lightning or felled by hurricanes, like artificial bridges crossed out path—nothing was missing to render the tableau perfect. I narrate what I saw; I describe my sensations, and yet must confess that my expressions fall short of reality."
Christ, through the Bishop, was looking at our parish, soon to be ripe for the harvest. The Bishop related that he had met some people with strange ideas concerning our faith. One lady believed Catholics "…to be pagans, worshiping saints, bearing a golden calf, selling confessions; they had persecuted the first Christians; after all they are called Roman Catholics and they had attempted to wipe out all religion." Bishop Portier, after dispelling ludicrous fears, carried on the task of spreading God's word among the people.
In 1839, two sons of Doctor Simons Jones Baker came to live in Jackson County and settled on a plantation near Greenwood (they were direct descendants of Colonel Henry Baker and his wife, Mary Bennett. The Colonel was a member of the Virginia Company who settled in the Isle of Wright County, Virginia, around 1665.) One son, James Lawrence George Baker, in 1860 married Elizabeth Anne Ferrall, who was a descendant of the Irish O'Ferralls, devout Catholics for generations, she was from North Carolina. From the union was born Sarah Smith Baker in 1867. When Sarah was nine, Elizabeth died and Sarah was sent to Baltimore, Maryland, to be educated at Mount de Sales Convent. She returned to Jackson County, a devout and exemplary Catholic.
The spark of Catholicism was rekindled in the person of Sarah, and in 1893 she married U.S. Senator William Hall Milton. A priest, Father Bason, came from Pensacola for the marriage. Also at this time, a Father Hugon of Tallahassee celebrated Mass in Marianna for the Milton family on an irregular schedule. So Mrs. Milton and her young family were, in essence, "The Catholic Church in Marianna." In total there were six permanent Catholics here: Mrs. Sarah Milton, son Homer Virgil, Mary, Bruce, Lucy, Sarah and Elizabeth (Senator Milton being an Episcopalian.) One also must remember that at this time it was not easy being a Catholic, for people looked upon Catholics with suspicion and bias. In fact, other Catholics came and went later.
In 1905 and again in 1906, the Rev. E.P. Allen, Bishop of Mobile, and two Polish fathers visited Marianna and lectured on the Catholic religion. In 1908 and 1909, Father Sullivan of Birmingham, Alabama, celebrated Mass at the Milton residence. We also find a Father Flannigan saying Mass there, but little else is known of him. From 1910 till 1944, Mass was celebrated monthly at this house.
In 1910 Jackson County became a mission, and it was Father Hourican from Saint Michael's Pensacola, who served it. Poor highways and worse bridges (some non-existent) made travel difficult. Then, in 1915, Marianna became a mission dependent on The Most Redeemer Church in Eufaula, Alabama, as Father Hourican had become pastor there (until 1918). Later, for one year, Father Walter Tobin cared for Marianna along with Father Phillip Cullen of Eufaula Parish. Following them until 1921 Father J.A. Tomerlin took over.
Marianna had, indeed, a good variety of visiting priests. Then, in 1921, Marianna became a mission served from Pensacola under Father Bernard L. Platte. But as progress is made, Marianna went under the care of Saint Patrick's Church in Apalachicola from 1923 until 1924, with Father Michael Keyes as pastor. In 1924 stability came with Father Charles D. Meyers from Saint Dominic Parish in Panama City. For 17 years he served Jackson County until he was replaced by Father Andrew McGovern, also from Panama City.
During this time, when Mass celebrated, Sarah sent out a buggy to bring in Catholic residents, who, with Mass, enjoyed a hearty breakfast afterward. Some of those whom history mentions as members of the church were David Moylan in 1927 and Carl and Helen Neal in 1933. Others included Mrs. Yost, Rita Gortemoller, Catherine Jensen and Jimmy Harkins. In 1933, Carl and Helen Neal arrived and soon opened a funeral home. Shortly thereafter, they had two children, Johnny and Carlotta, augmenting the Catholic group by a good percentage.
With World War II under way, the army built an air force base complete with chapel and chaplain. In 1941, Father (captain) Sullivan celebrated Mass daily. Originally from Pennsylvania, he was, as an Edwardian priest, dedicated to black parishes. Shortly afterward, Father Dopak succeeded Father Sullivan.
Beginning in April, 1944, Marianna was served by three priests. Father Harold Sherman from Fort Walton for two months was followed by Father Edward O'Connell, who began to celebrate Mass in the Community Center of Marianna each Sunday. After a year, came Father Patrick J. Ruddy for one year. These all hailed from Saint Mary, Fort Walton Beach. The same priests served likewise in DeFuniak and Crestview. There seems to be a great amount of variety as to where Mass was celebrated during this time. The ballroom of the old hotel, the city-hall and the city recreation center, located on Wynn Street, were all used. The church resembled a group of pilgrims, searching for a home.
In 1946 Marianna was still on the same missionary run, and Father Patrick Cunningham was appointed assistant at Saint Mary's, Fort Walton Beach. It is he who cared for Marianna, along with DeFuniak Springs and Crestview. The Catholics were few in number, and not too much was known of them by the local populace. Father Cunningham was the right priest at the right time. Intelligent and good-humored, he did much to dispel misconceptions. Carl Neal likewise helped the Catholic image here. Carl's loyalty to the church and his integrity gained the respect of many, and thus the church was better received. As priests came to this area, it was Carl who took them around and introduced them to local businessmen. It took devotion and courage to openly profess the Catholic faith.
The congregation then grew from three to ten families. On December 8, 1947, Saint Mary's Parish was divided. Saint Anne's in Marianna became a parish, with Father Patrick Cunningham as the first and founding pastor. Father Cunningham received permission from Bishop Toolen to purchase a new parish site at Marianna and to build the first church and rectory. (There was a parish, but no church or rectory). At Fifth Street south of Jackson County's old hospital, a site was purchased, five lots for $500.00 each.
In November they began to clear land, most of the under brushing done by Father Cunningham and Carl and Helen Neal. The first donation for the church was made by a Jewish man, and a donation of $15,000.00 was received from Catholic Charities toward the total cost of $30,000.00 for the church and rectory. The church's design, plans and specification were prepared by Mr. Tom Sherer. At this time, the church collection was up, on a good Sunday to ten dollars. The church, especially Father Cunningham and Carl Neal were contracting the work themselves, saving up to 40% of the cost. On January 23, 1948, ground was broken for the new Saint Anne's Church. The Church hired a Mr. Gaynor to act as foreman and work began. Help was had from a Mr. Theodore Bass from Fort Walton, who served as General Foreman. Pews costing about $2,200.00 were bought, covered by proceeds from cake sales by the first women's organization. Saint Anne's first Mass was celebrated on July 18, 1948, Mrs. William Hall Milton, then 82 years old, was the first to receive Holy Communion at the new church, only four months before her death. Because of Mrs. Sally (Sarah) Milton and others like her, the faith was never really forgotten in the centuries after Father Rodrigo first lifted up the chalice of salvation in the wilderness here in 1674.
The main altar and the two side altars were gifts of relatives and friends of Father Cunningham. The altar rail was donated by the McKay family of Tampa, Florida in memory of their daughter, Margaret M. Guyton (a deceased member of the Parish; Guytons were a pioneer family of Marianna). The statue of Saint Joseph and the child was given by Charles and Nell Goldsboro and their two sons, Jimmy and Bobby. The statue of the Blessed Virgin Mary was a gift of Louise Rutten (a family of Blountstown who operated a saw mill), who also provided materials for the beams and roof of Saint Anne's. All of the windows likewise were a result of the generosity of numerous people.
It seems that the first two altar boys who served Mass in the new church were Johnny Neal, son of Carl and Helen Neal, and Bobby Goldsboro (later to become a famous singer).
At about this time, on November 3, 1948, the Marianna Catholic Woman's Organization had its first meeting. The object of this group was to provide a medium through which Catholic women assisted in promoting the interests of the parish by caring for the altar, helping in parish programs, and affiliating with Diocesan and National Councils of Catholic Women. Their President was Helen Neal.
Other members being:
Publicity Chairman – Mrs. B. P. Mastersan
Historian – Mrs. Catherine (Harkins) Jensen
Hospitality Chairman – Mrs. Winn Ryan and
Mrs. Mary Bruce (Milton) Singletary, Mrs. Charles Goldsborough and
Mrs. Dick Yost, members of the committee
Music Chairman – Mrs. A.E. Budde
Program Chairman -- Mrs. Herman Dean with Mrs. Margaret Pelt and Mrs. Frank Zrych,
Committee Members.
Membership Chairman – Mrs. Donald (Betsy) Gardner
Devotional Chairman – Mrs. Telfair Ghioto
Parliamentarian – Mrs. Rita Gortemoller
They met at Neal's funeral home. Likewise, the men, not to be outdone, organized the Holy Name Club with Carl Neal as President. Dances, auctions and ball games were held by the men's group of the church to beautify the grounds around the church and rectory. Carl Neal and Telfair Ghioto acquired donated shrubbery from the air base and did the planting themselves.
On March 14, 1950, Bishop T.J. Toolen dedicated Saint Anne's church and administered the Sacrament of Confirmation. On the same day the Bishop also informed Father Cunningham that he was to leave Saint Anne's and become pastor of Saint Mary's of Fort Walton. Father O'Connell and his pastorate lasted until 1955; he was succeeded by Father John who served at St. Anne's until 1962. During 1962, Father Joseph Notarpole became pastor. In 1968, the Mobile diocese was divided, with St. Anne's parish becoming part of Saint Augustine Diocese. A year later (1969), Father Brendan Heaslip became pastor and remained here about three years. Father Heaslip may be credited with improving relations with the college and community. He was the first to be a guest lecturer for the Humanities classes. He also accepted the invitation to participate in the Thanksgiving services at the college.
In 1972 Father Richard Altenbaugh was transferred here as pastor. The local church has been slowly growing, and, in 1976, there was a need for Religious sisters to help out in this area. Saint Anne's boundaries had been shifting constantly. At this time, Blountstown, Marianna, Fountain, Chipley and Bonifay all belonged to it. Father Altenbaugh sent out appeals in April to about 165 religious communities and universities seeking help. Help quickly came.


Sister Clare Dennis of Our Lady of Christian Doctrine Community in New York accepted the position of Religious Education Coordinator to work with schools of religion in parishes of St. Anne, Saint Joseph (Chipley), Blessed Trinity (Bonifay), Our Lady Queen of Peace (Fountain), Holy cross Chapel (Chattahoochee), and Saint Thomas the Apostle (Quincy). Sister Margaret Mary Murphy of the Congregation Mission Helpers of the Sacred Heart in Baltimore, Maryland, arrived. She was to become the Social and Pastoral minister, making parish visitations, counseling the families, and taking Holy Communion to the sick. Sister Margaret Mary was a nurse, a great asset in many cases.
The convent was slightly renovated; walls were added to form two bedrooms and closet space. Furnishings for the convent were purchased at garage sales and donated by parishioners. Open house was held on August 29, 1977. Plans were made for religious program to be set up for students at Chipola Jr. College, Dozier School for Boys and Sunland Training Center. In a short time, however, due to the work load, the sisters could not realize this last task.
In 1976 a Pro-life group was organized at Saint Anne's, the result, an excellent booklet developed on that theme. Sylvia Ramos was president of this group which wrote this pamphlet, explaining the idea of Pro-life, what abortion really is, and its evils. Father Richard Altenbaugh and Sylvia proceeded with a film-strip, traveling from school to school, visiting each high school counselor in the area. Later on, Julie Keyes assumed this position.
Toward the latter part of 1976 the Parish Council was officially formed with Carl Neal as its first president. The council was to act primarily as an advisory board for the pastor, helping him out and being a sort of grass roots sounding board. Its committees include a financial committee, a maintenance committee, liturgy committee, apostolic committee, a family life committee and education committee. In the next seven years it elected nine presidents: Carl Neal, Bill Wooly, Sylvia Ramos, Robert Roesler, Johnny Neal, Robert DeGroot, Mauricio Castelion, George Eckerly, and Joe Davis.
A sign of the times, a Charismatic prayer group began with a core consisting of: Father Richard, Sister Margaret Mary, Sylvia Ramos, Elizabeth Sweeney, Melba Cabrera, Joe Spellman, Jo Ann Durden, Pat Weiss, Mary Rollins, and Carol Brown. The group began in 1977 and thrived for a few years. After a while they offered a Life in the Spirit course for those interested in spiritual renewal.
As for Catholic Education, there was always some degree of catechism taught at Saint Anne's. To list those who helped would be impossible and would require a history in itself, but one can say, many, many members of our parish yearly dedicated their talents, time and effort to instruct our youngsters in Christ's teachings. The same can be said for the upkeep of the church. Members faithfully donated their time and effort to keep the church and altar clean and attractive through the years.
One interesting highlight near Christmas of 1977 was the formation of a large choir, utilizing high school CCD talent, under the direction of Mrs. Vickie Antonelli. Besides singing at Mass (using robes borrowed from a Baptist Church), they went caroling at the hospital and nursing home, a tremendous success.
In June of 1978, Sister Clare, for health reasons, left Saint Anne's with no replacement. Sister Margaret Mary had full responsibility for Marianna, Bonifay, Chipley, Fountain, and Blountstown, in addition to 56 families at St. Anne's.
Catechism at this time was taught in the Rectory, the church, or in any nook or cranny which could be found. A meeting place where the parish family could congregate to form a true community was desperately lacking. The Saint Anne's building committee was founded with Paul Antonelli as president (other members being Walter Ramos, Joe Spellman, Elizabeth Sweeney, Bob DeGroot and Johnny Neal). After much planning and many visits to the Bishop, approval was given for a building. M. & W. Construction was the lowest bidder at $78,000 and a grant from Catholic Charities was obtained.


On August 24, 1980, Bishop Renee Gracida dedicated the new Parish Hall. Shortly before the dedication, an emergency council meeting was held by telephone, giving Paul Antonelli permission to buy chairs and tables, which arrived a few days before the dedication.
Early in 1978, Father Richard Altenbaugh was approached about the idea of forming a chapter of the Knights of Columbus. A club for men was needed to present a truly Christian atmosphere with fraternal spirit among the men of the parish. An earlier men's club (in 1948) had since vanished. The required minimum of 30 men for the chapter was finally obtained, by drawing from four counties. On July 23, 1979 Council #7380 began with Thomas P. Dowell, Sr., serving as first Grand Knight.
Other Charter members were:
Rev. Richard Altenbaugh George Sweeney
Paul Antonelli Joe Spellman
S.R. Beloat Jr. G.P. Spellman
J.C. Braun A.B. Tannachion
R.A. Witschy Bill Payne
N.A. D'Amour Fred Borgatelli
Robert DeGroot E.J. White
Malcolm Donalson P.A. Nelson
T.G. Flowers John Mader
John McCroan III W.F. Eddy
A.H. Porter E. DeSanto
Walter Ramos Bill Mongoven
Robert Schneckloth F.P. Kemmis
R.P. Rech
Succeeding Grand Knights were Walter Ramos, Albert D'Anielo, and Paul Antonelli. Notable projects included a float in the Christmas parade, a booth at the county fair, a scholarship fund at Chipola Junior College, special visits to Sunland Training Center and help to Jackson County retarded citizens, and at Thanksgiving, meals provided for needy families.
In 1980 a book entitled Saint Peter and His Successors, written by a member of the parish, Malcolm Donalson, was published. The book explained the origin and early history of the papal office. It was favorably reviewed and later mentioned in an article in the Liguorian, a national Catholic magazine.
During May of 1980, Joe Spellman was ordained to the permanent deaconate, the first from St. Anne's parish.


Slightly later, in September, an elderly Sister came to live with Sister Margaret Mary. A good companion to Sister Margaret, Sister Barbara Toolen also helped in the office with clerical jobs. When writing about Saint Anne's one cannot forget the bookkeeper and treasurer Mrs. Kathleen Carter, without whose cooperation Saint Anne's books would be in a sorry plight.
Shortly before this time there was functioning a Lady's Guild, consisting of Francis Roesler, Rose Cotton, Sylvia Ramos and Helen Neal (and others). Succeeding this group the Saint Anne's Women's Workers took over. Janet Porter was group leader as they developed various projects (such as crafts, bazaars, raffles). Much of the furniture, refrigerator and material in the hall, was obtained through their efforts. Some early members come to mine, including Mrs. Anna Blessinger, Gretchen Schneckloth, Sue Rigotti, Marian Castelion and Cecilia Kobala.
The 80's seemed to be the time to participate in Catholic movements and retreats. Several members attended the Cursillo, the Christian Family Movement, and Search, and a Parish Renewal was presented by Father Richard Altenbaugh in our own parish (with a large percentage of the parishioners taking part). Even a Seder meal was shared by about 42 families. With pastoral and the Parish Council approval, the Legion of Mary (an apostolic group) was formed, to visit and welcome new Catholics, ill Catholics, lapsed Catholics, non-Catholics, and to teach C.C.D. Mary Mooney, the Diocesan Organizer for the Legion, visited to begin a local presidium. Bob DeGroot was selected as President, Julie Keyes, treasurer. Other members were Albert D'Anielo, Lily DeGroot and Charlie Robertson. Later Barbara Badertscher, Tom Bower and Rose Sims joined.
In 1983 Father Richard Altenbaugh volunteered for mission work, and was transferred to Ozona, Texas, to a Mexican-American parish. Likewise or Bishop Rene Gracida was selected to head the corpus Cristi, Texas, diocese. Before leaving, the bishop formed an Episcopal Vicariae, with 17 pastoral centers tied together. Father Ronald Barton, an Oblate priest, was appointed at Marianna, and as Interim Episcopal Vicar, in charge of the Vicariate. Father Henry Kosakowski, a priest from Poland became his Associate Pastor, to remain until the new bishop got a feel of the parish.
In August, 1983, Sister M. Alberta Sipperly (MHSH) was assigned to Saint Anne's and joined Sister Margaret. She undertook clerical work, altar duties (organizing the altar care), taught Sunday morning adult education, and many other tasks.


One of Father Ron Barton's first acts was to re-establish the Charismatic prayer group (which had dwindled considerably) as the "Mother of God" prayer group, in which Chuck Rogers and his wife Cheri, Sylvia Ramos, Elizabeth Sweeney, Gayle and Tom Bower, Barbara Badertscher, Eleanore Lynch, Mary Croswell, and Dolores Morrison all played an important part. Father Henry Kosakowski was appointed the Spiritual Director of the Legion of Mary.


On June 6, 1984, the Bishop appointed Father Paul Stewart as Pastor of Saint Anne's and Father William Kelly (a newly ordained priest) his assistant. Father Kelly was to stay at St. Anne's only about six (6) months, until his transfer to Saint Dominic's parish in Panama City. Father Bill Condren was assigned as Father Paul's new associate, to care for Saint Francis of Assisi Mission in Blountstown.
Robert A. DeGroot
January 1985
Marianna, Florida
The next year, in May of 1986, Sister Alberta and Sister Margaret Mary left Saint Anne for retirement. Three months later, in August, the mission Helpers of the Sacred Heart sent Sister Hiehle and Sister Mariel Rafferty to replace them. They were asked by the Bishop to assist also in the five surrounding counties. One of their earliest tasks, which persist until today, was that they give adult education on Wednesdays (Scripture study, New Catechism, videos, etc.).
In 1985, Frank Baker, recognizing the need for a permanent choir, began slowly to assemble one. Dolores Morrison, Barbara Badertscher, Curtis Mathews and Eleanor Lynch were the first members.
Father Paul Stewart and the Parish Council decided that the interior of the church needed repainting. Most of the work was done by Ray Burke. A cement walkway was to be put in by other members of the parish. It wasn't till 1989 that the kneelers were padded. Until then, it was knees on wood.
On June 15th, 1988, Father Paul Stewart left to become pastor of Saint Margaret's Church in DeFuniak Springs. Father Gerry Kocek a member of the Cistercian Order arrived as our new pastor.
Soon afterwards, the parish council was disbanded, after a few variances of opinions there. In 1992, a new adult's club was formed, comprised of both men and women. This was in addition to the Women's club, which is still in existence. It includes activities such as Day of Recollection, special outside speakers, and planning parties for children. This club is no longer in existence.
On November 6th, 1993, our Permanent Deacon, Joseph Spellman, passed away. He did a lot of spiritual work especially at the prisons. He was our first and only permanent Deacon at Saint Anne. He was a deacon for about ten years.
Father Kecik, a member of the Cistercian Order was elected Abbot over a Monastery in Poland (Opactiweo Cystersow, in Wachock) and left Saint Anne in 1995. After a time, Father Hugh Dolan, an Irish priest came to be our new Pastor.


The same year, our new building was bought. It sits at the corner of 6th street and 2nd avenue, adjacent to the Church and parish hall. It was remodeled and is used as C.C.D. Classrooms.
The Knights of Columbus, in 1994, received a second wind, and began regular meetings with usually a dozen members in attendance. After their reorganization, the Knights began to raise funds for retarded citizens of Jackson County, through their Tootsie Roll Campaign.
In 1995, Hurricane Opal paid us a visit blowing over a large pine tree which split the parish hall in half. The damages were quickly repaired by a new roof.
Representative Pete Peterson a long time member of Saint Anne's Parish was confirmed as the United States first Ambassador to Vietnam. This was his long desire.
As trends change, so do the parishioners. Recently there has been a large influx of Latin Americans into the church, who have a positive influence on the church here.
Likewise, Justo Herrera began The Ambassador of Mary Home Visits. This began with the first known procession in Marianna, from his house (about 4 blocks away) to the church (Police escorted). The next day, home visits began the first one at the house of Robert Asselin. On the first Sunday, rosary and litany of Our Blessed Lady is prayed, on the following Sunday, rosary, litany and Enthronement of the Sacred Heart of Jesus in the house is accomplished.
Numerous activities, of course, are going on constantly, such as Church picnics, camp-outs, youth outings, etc. Nor can one forget, the Burse Club, Catholic Sharing Appeal, Altar Boy training, etc.
A large celebration for Saint Anne Jubilee is planned on July 18, 1998 in honor of the 50th Anniversary for the laying of the corner stone of the church. Various committees are formed covering every aspect from repair of the church to decorations.
Robert A, DeGroot
May 1 1998
Marianna, Florida
P.S. A special thanks to Lynn and Meredith Baker for their art work of the Milton House, Early Spanish cave site (Mission site) and map. Cave near the Waddel Mill Pond. This is possibly the site of the Mission called San Carlos. The Milton Home, drawing taken from a painting.
BIBLIOGRAPHY
Spanish Approach to Pensacola 1689 – 1693translated by Irving A. Leonard, the Quivira Society, Albuquerque 1939 (1967); Document No. 19 Journal of Friar Rodrigo de la Barreda Pp 267-268; Document No. 20 Journal of Torres Y Ayala Pp. 230-232.
History of Jackson County by Randall Stanley. Pages 84-85 Jackson County historical Society 1950.
The Cross In The Sand by Michael C. Gannon. The Early Catholic Church in Florida 1513-1870, University of Florida Press, Gainesville 1965.
Waddells Mill Pond Site by William M. Gardner.
Agenda and Constitution of Catholic Women Organization 1948
Catholicism in Jackson County, Florida by Father Patrick Cunningham. (The principle source for the Milton Family information)
Interviews
Carl Neal 1982
Father Patrick Cunningham August 1983
Helen Neal November 1983
Sister Margaret Mary December 1983
Mary Bruce Singletary (Milton) December 1983
Sister Helen Hiehle
Sister Mariel Rafferty
Saint Mary's Catholic Church, Fort Walton Beach 1976-1977 Bi-Centennial Edition of its Directory
Jim Woodruff Reservoir Area History, Bureau of American Ethnology. Bulletin No. 169. Pages 212-221; 258-260
Riverside Surveys, Smithsonian Institute. Prepared by Dr. Mark Boyde 1958.
Continuation of the history of Saint Anne Catholic Church
1998-Present
Father Hugh Dolan remained at Saint Anne until 2000 at which time he was transferred to Pensacola where he retired. Father Pat Foley arrived shortly thereafter. Under his Pastorship, many physical improvements were made; The Church was repainted, new carpet was installed, and the floor was redone and landscaping around the Church was accomplished. Father Pat was transferred to Saint Joseph Parish in Pensacola in June, 2002.
Father Paul White became our Pastor on July 7, 2002. Two houses were purchased; one across the street from the Church was purchased and renovated (Sister Rachel Elias and Sister Kathleen Garrity moved into the new convent in February, 2003). The second house adjacent to the new convent, but facing Kelson Street became the new Rectory. The old Rectory was renovated to be used for Church offices and a conference room.


On July 29, 2001, Sister Rachel Elias and Sister Kathleen Garrity, Sisters of Saint Francis of Philadelphia, Pennsylvania arrived. They moved into the convent located next door to the Church Rectory at 3007 Fifth Street. (Later they moved across the street to a newly renovated home). Sister Kathleen's activities included work among the poor and Sister Rachel assisting both in Marianna and Chipley parishes was involved in many parish activities. Sister Kathleen, who worked a lot with the poor of the area, left for Washington, D.C. on May 11, 2003 to work with the poor there.
A few members of the parish (i.e. Bob DeGroot, Jerry Lebica) approached Father White with the need for and help to start a charitable outreach program. At first, it seems to fizzle out, but then, by the Grace of God, two families moved to the parish (Laverne and Boots Ayo and Carol and Bill Connelly). One family had experience working at a thrift store and the other had the ability to organize (since he was an international trouble shooter for the State Department). The former building located on Second Avenue was now designated as the new Saint Vincent de Paul Society building. Bill Connelly, Boots Ayo, and Bob DeGroot worked six days a week painting, doing necessary carpentry work, cutting steel and making shelves and racks to get the building ready. Laverne Ayo, Carol Connelly, Fred Ince, Bob Asselin and Jack Long also gave a lot of assistance. The Thrift Store was blessed on February 1, 2004 and opened its doors to customers on February 3, 2004 with Laverne Ayo in charge and receiving assistance from Carol Connelly, Nina Roney, Joan Foor, Sister Rachel and Regina. The former garage was thoroughly remodeled for the food pantry which opened on August 12, 2004 with Bill Connelly in charge. (Actually, Bill Connelly was in charge of the entire operation). About once a week or so, two retired men from Destin would bring us excess bread and other foods from a large store there. We (members of Saint Vincent de Paul) would distribute it among the the poor with some also going to the Garcia family to distribute in Malone and an A.M.E. Church south of town.
Another need was a religious goods store. After some work repainting and putting in some shelving, the religious goods store opened with Bob DeGroot and Boots Ayo in charge. Father Paul also wished to establish a youth ministry which never came to realization before he received notice from the Bishop that he was to be transferred. On June 28, 2005, he was appointed Pastor of St. Peter in Mary Esther.
Father Sean Knox arrived on July 1, 2005 to assume his role as Administrator of Saint Anne and Saint Joseph the Worker in Chipley. During this time, emphasis was placed on youth development. Soon, a youth minister was appointed. The former convent was now to be the youth minister's house. Miss Elizabeth Nelson was appointed as the first youth minister. After being specially trained, she took over this task and youth activities began in ernest. Over the following years, they attended Christian rock concerts, retreats and other exciting events.


Father Sean wished to express his faith in the Eucharist and bear witness to the Catholic Faith with a Eucharistic Procession. Thus, on the feast of Corpus Christi, we had a special procession to Hwy U.S. 90 and back. This being Saint Anne's second but definitely largest procession the Church has ever had. (The first was on December 12, 1997 on the Feast of Our Lady of Guadalupe).
Our beloved Religious Sister, Sister Rachel Elias, passed away on May 16, 2008 at her Order's Mother House In New Jersey. She was such a great blessing to the Church. She helped out wherever she was needed and she visited the sick , worked in both Marianna and Chipley parishes, set up needed activities (such as starting and maintaining the prayer chain), assisted at the Thrift store and helped wherever she saw a need. With a smile, she brought Christ